The Practitioner of 'Unremitting Self-improvement and Virtues'—Reporting on Yan Rongfei, Chairman of Jiangsu Tongling Electric Co., Ltd.
---
Yan Rongfei: "The Great Parent" of Tongling Electric
2020-09-09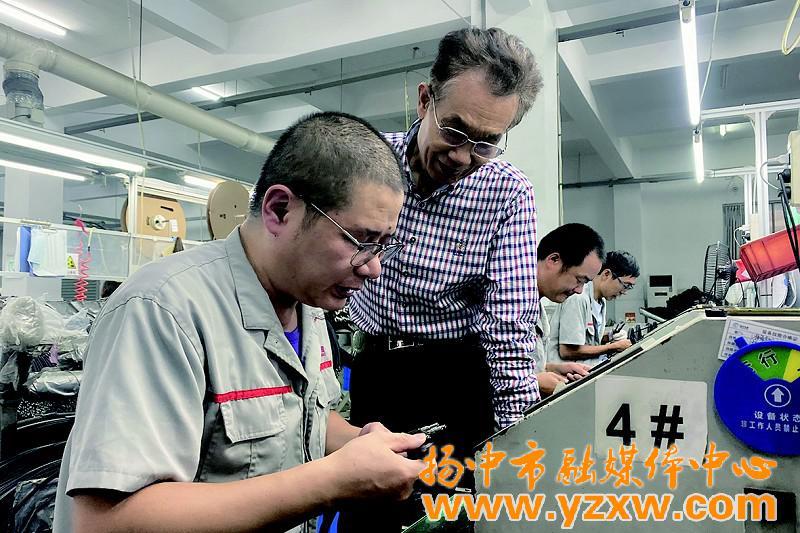 With curly gray hair and smiling eyes under silver-rimmed glasses, at Tongling Electric, workers can see him every day in the workshop. But Yan Rongfei couldn't see any "framework" at all, and the employees affectionately called him "President Yan". "Our more than 1,000 employees are all part of the psychic family. They can work stably and happily for a long time, which is my greatest happiness." Yan Rongfei said.
From a OEM factory with less than 10 employees and an output value of less than 1 million in 2005, to a listed company with thousands of employees and an annual output value of nearly 1 billion yuan, in just 15 years, the "big family" of Tongling Under the leadership of Yan Rongfei, the "big parent", the company has created a year-on-year increase in output value, and it is also a well-known enterprise in the domestic solar power station connection protection device market segment.
In the early 1970s, due to special social reasons, Yan Rongfei, who was admitted to high school, failed to enter the high school classroom as he wished. Instead, at the age of 15, he entered the Yangzhong County Electronic Instrument Factory as an apprentice.
After a year of workshop experience, Yan Rongfei is not satisfied with doing simple mechanical work day after day like other people. He is good at using his brain to improve the craftsmanship, transform the machinery, and improve the efficiency, and thus get the opportunity to contact the blueprint design. , mastered the operation method of each process in the workshop. In the following years, through continuous self-learning, scientific research and innovation, and constantly optimizing the product process, he has become a senior technician, the core technician of the electronics factory, and the deputy director.
At the end of 2005, Yan Rongfei embarked on the road of self-employment. He mortgaged his own house, took out part of the loan, borrowed part from a friend, raised 880,000 yuan, rented a factory, and established Tongling Electric Company with sole proprietorship. "In order to develop an enterprise, it must engage in research and development." Yan Rongfei, who is both a boss and a technical expert, knows that only by constantly innovating technology can he survive in the market. Under his leadership, the company has focused on technological innovation and product upgrading, and has obtained more than 60 patents of various types.
In 2012, with the increasingly fierce competition in the domestic photovoltaic market, Yan Rongfei immediately set his sights on the international market and began to prepare for the listing of the company while competing for customers with quality, performance, price, speed and service. The implementation was carried out step by step, and finally successfully listed on the New Third Board in September 2015. At present, the company has a large number of high-quality customers at home and abroad, and the proportion of external sales is about 30%. It has established stable cooperation with some well-known enterprises in Singapore, Germany and South Korea. The sales volume is far ahead in the domestic industry.
"Entrepreneurship is hard work, you must have an indomitable spirit and be down-to-earth." Yan Rongfei summed up the success of entrepreneurship, "Just like an old Chinese saying: no amount of hard work, no amount of harvest, as long as you earnestly do everything well. If you work hard, you will be rewarded." He said
From start-up to maturity, Yan Rongfei also knows that this is closely related to all the employees of Tongling Electric. As a "big parent", Yan Rongfei is never ambiguous about employees.
As early as 2011, Tongling Electric invested 1 million yuan to create the "Tongling Charity Fund", and increased the charity fund to 5 million yuan within a few years, which was used for medical reimbursement for major diseases of employees and for poverty-stricken employees. Condolences. An employee of the trade union unfortunately suffered from leukemia. Over the years, the company has helped him reimburse hundreds of thousands of medical insurance for treatment expenses, so that his condition can be well controlled. The employees feel more at ease and security. "Anyone who has difficulty finding him, I don't ignore him; anyone who invites him for a big or small affair at home will not be there." Everyone commented unanimously, "President Yan is a rare person who has no pretensions and is kind-hearted. long."
"Enterprises grow in the society, so they must also serve the society well. If there is no social support and no social recognition, the enterprise will not develop well." Yan Rongfei said frankly, as the "big parent" of Tongling Electric, he The biggest pressure is whether I can make my more than 1,000 family members work happily and retire smoothly. And this is also his best practice of the eight-character factory motto of "constant self-improvement and great virtue".
Yangzhong News Network Link
Related news
---