The first casting chip photovoltaic module junction box passed 35A certification
---
Jiangsu Tongling Electric Co., Ltd.,Stock code 301168 (referred to as "Tongling Shares 301168")
Recently, Tongling's 301168 core technology products have passed the TÜV Rheinland IEC 62790: 2014 standard certification, and the rated current has reached 35A, achieving a series current coverage of 15A to 35A, providing customers with more choices.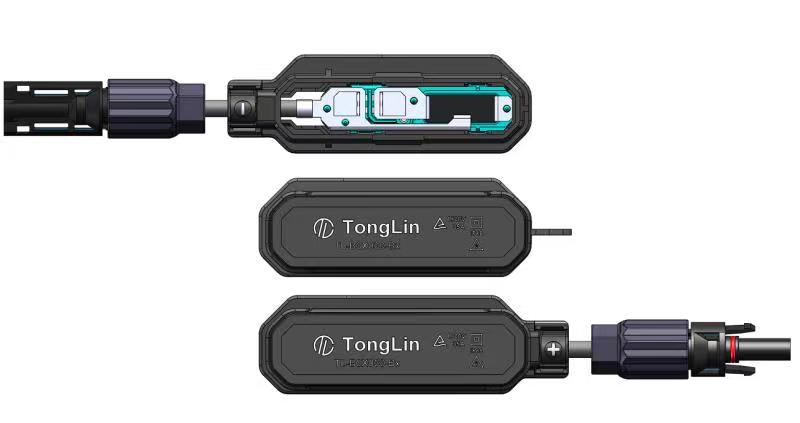 The certified product TL-BOX030BF35 adopts the company's first invention patent technology of casting chip packaging, and the product is cost-effective. Compared with the traditional photovoltaic junction box, the protection function of the casting chip junction box is mainly realized by directly casting the chip, which is a chip package. The combination of technology and junction box assembly technology has a high threshold, and has the advantages of large current carrying capacity, good heat dissipation, and high level of automated production.
Mr. Li Jinjin, President of Tongling Co., Ltd. said: "Technological innovation is the driving force for the company's continuous development. The chip junction box not only requires the company's long-term accumulation of technology and experience to master the corresponding chip packaging technology, but also needs to be assembled with the junction box. Technology is combined for application optimization, so as to achieve the performance requirements of junction box products and ensure the stability of quality. Tongling has the ability and confidence to lead the technology and quality of junction boxes."
The certification of products with rated current of 35A is once again proved by psychic people with practical actions that psychic products have superior performance and excellent quality.
Jiangsu Tongling Electric Co., Ltd. is a professional solar photovoltaic module connection system manufacturer. The main products include solar photovoltaic module junction boxes, connectors, welding tapes, photovoltaic cables, wiring harnesses and other solar photovoltaic module connection system products and accessories.
The company's excellent product quality and excellent after-sales service have created a brand advantage for the company. It has successively won the titles of "Top 30 Enterprises in Yangzhong City", "High-tech Enterprise", "China Famous Trademark", "Contract-honoring and Promise-keeping Enterprise", "AAA Credit Enterprise", provincial, prefectural and municipal "Civilized Unit", etc. Won the Yangzhong City Quality Award.
The company's products have won the "High-tech Products", "Jiangsu Province Famous Brand Products", "Jiangsu Province Patent New Product Gold Award", and passed the Golden Sun CGC, CQC, TUV Rheinland, TUV South Germany, UL, VDE, ROHS, CE, JET and other certification.
Today's Tongling Co., Ltd. continues to pursue the enterprise spirit of "integrity-based, moving customers", in line with the tenet of "winning by quality, striving for excellence", based on independent innovation, and marching towards the grand goal of "branding and internationalization" .
Related news
---